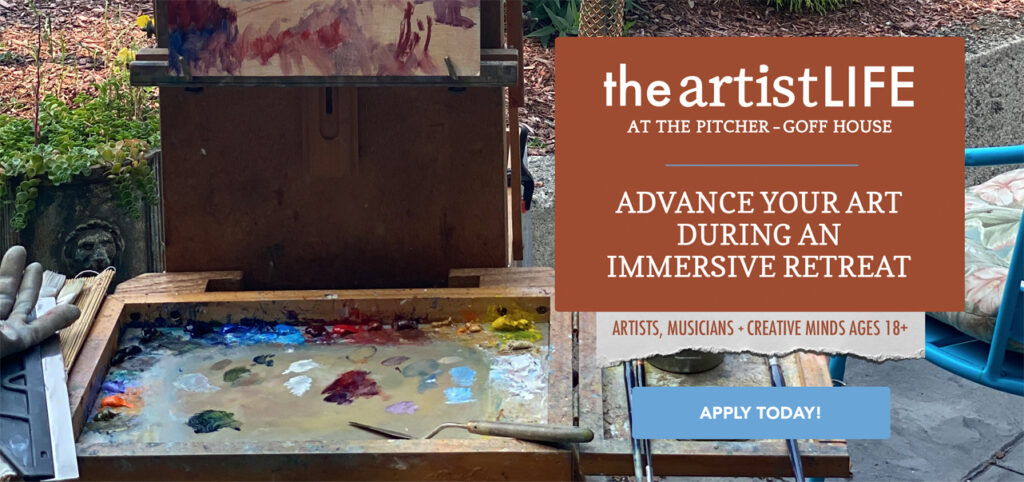 Join our Studio Intensive!
It's an ideal artist's retreat!
Discover new ways to create under the guidance of artist Nick Paciorek in a Studio Intensive experience designed to let you focus solely on your craft – whether art, music or the written word. Imagine days full of artistic freedom with the time, space, and community to hone your talent, explore new perspectives, and discuss the artists' life with others in the creative arts field who get it. These are not structured classes but total flexibility: you'll have some time working with Nick one-on-one, some time working on your own to let your mind run free, and some time with other artists. That's The Artist Life.
Choose from three to five days for a Studio Intensive at The Pitcher-Goff House's Container Project – mini studio spaces to work and a sun-dappled courtyard to gather in. It's a change of scenery that can free your mind and your perspective. All residents will also have access to the kitchen, bathrooms, gallery and veranda in the main house.
Our students say it best! Hear what Rachel Brask said after her Studio Intensive experience:
"The Artist Life was a flexible, breakthrough experience that helped me push some creative limits of my artwork. I decided to try it because I had recently re-started my painting practice after almost a 2 year hiatus and it was a slow-rolling, uphill battle. I thought it would be just what I needed to work in another space for a change of scenery and perspective, and hopefully open me up to some new ideas or new approaches to my work. Nick offered ideas on new methods to try, materials to consider, and even the bonus of creating a collaborative painting."
"During the sessions, we talked over our inspirations and challenges, and Nick took a genuine interest in getting to know the ins and outs of my rainy oil painting technique, asking critical questions on if I had tried using a particular tool, substrate, or subtle change in how I moved my paintbrush, without necessarily trying to make my paintings like his. He asked great critical questions that challenged me about how I approached or thought about my "rainy days" body of oil paintings, made references to books to check out, videos for reference, and techniques to think about. Specifically, several creative exercises he suggested helped me rediscover my original love of pure expressionist abstraction, so now I've charted a course where I will be revisiting these "rainy days" but without any landscape reference, only color, light and texture!
"The experience helped me break through some of the confines of my workflow that I realized had resulted from the constraints of my own studio environment, size and setup. The best part for me was working on a collaborative rain painting with Nick, as we each took turns modifying the painting according to a combination of both our processes. It forced me to think quickly, not take any particular paint stroke too dearly, and to be nimble and flexible in my approach. Working with Nick was a true highlight of the experience. He was a truly gracious host and was highly engaging in his insight and challenges to my art making."
Join Nick Paciorek to advance your skills and leave ready to take your art to the next level!

The creative artist, musician or writer who is seeking a change of scenery in a unique discovery process.
All applicants must be at least 18 years of age.


The Pitcher-Goff House in Pawtucket, RI

You choose a three or five day experience, each day running from 9 a.m. – 5 p.m. –See available dates below (subject to change).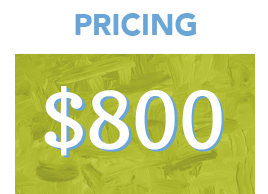 The cost of the Studio Intensive depends on the length of your experience. A five-day Studio Intensive is $800 per person, including continental breakfast and lunch. On-site parking included. Housing accommodations are not included, but we would be happy to recommend some places to stay nearby.

Simply fill out the form below and we'll be in touch!
For questions or to register by emaiL: