Facing Emotion: Why Art Speaks to Us
Join us December 2 at 6PM at the Pitcher-Goff House as we host a lively conversation between artist Nick Paciorek and psychologist Joe Pereira, with plenty of time for audience Q&A.
Any time we look at art, it evokes a certain emotion, as different for each viewer as there are people on earth. In this talk, Nick and Joe will focus on artwork that emphasizes faces as subject matter. They'll dive deep into why art evokes emotion, why artists are drawn to faces, why looking at face art is like looking into a mirror, and how they use faces to inspire emotion. They'll help you open your mind about how to look at art that features faces and what to ask yourself as you collect art.
More than colleagues, Nick and Joe are long-time friends, making this event more like eavesdropping on a smart friend's conversation. The hour-long talk will be followed by open house to view the latest collections.
Don't miss out: seating is limited and Pitcher Goff members have first reservations. Reserve your seat today!
About our speakers
Joe Pereira, LICSW, CAS
Joe is a licensed clinical social worker and addictions specialist, practicing for over 30 years. He is currently in private practice in Arlington, MA offering individual and group therapy as well as training and consultation with a focus on anger management for adults and adolescents. Joe has given numerous trainings locally as well as nationally and internationally on the treatment of anger management problems as well as workplace conflict, chemical addictions and stress management. He was interviewed by The Wall Street Journal on working with people with anger control issues and has appeared on "Chronicle," a popular Boston local news show, discussing the topic of road rage. Joe has been a lecturer at the Boston University Graduate School of Social Work since 2013.
He also enjoys visiting art galleries and museums and has an interest in art collection. He appreciates how looking at art can elicit certain feelings and thoughts for an individual.
Nick Paciorek, the Artist
Chicago shaped young Nick Paciorek's world and brought him to where he is today: a renowned artist whose work is seen from coast to coast and around the world. As an artist, Paciorek aligns himself with a new generation of Fauvists. Known for his vibrant cityscapes, he has traveled the world – from Italy's Dolomites to France's canals to Macy's Thanksgiving Parade in search of inspiration, light and pattern. Early in his career, an art critic called him the Mad Beast of Color in terms of how he applies color, and the name stuck.
Originally from Chicago, Paciorek's education brought him to Baltimore and Washington, D.C. as he explored his vision. He earned his BFA from the Maryland Institute College of Art and at his senior show he was fortunate to be picked up by Jerry Eisley at the Fox Hall Gallery in D.C. before graduation. Today, he continues to create art, inspire artists, and prompt conversations that make you think at The Pitcher-Goff house in Pawtucket, Rhode Island.
---
past events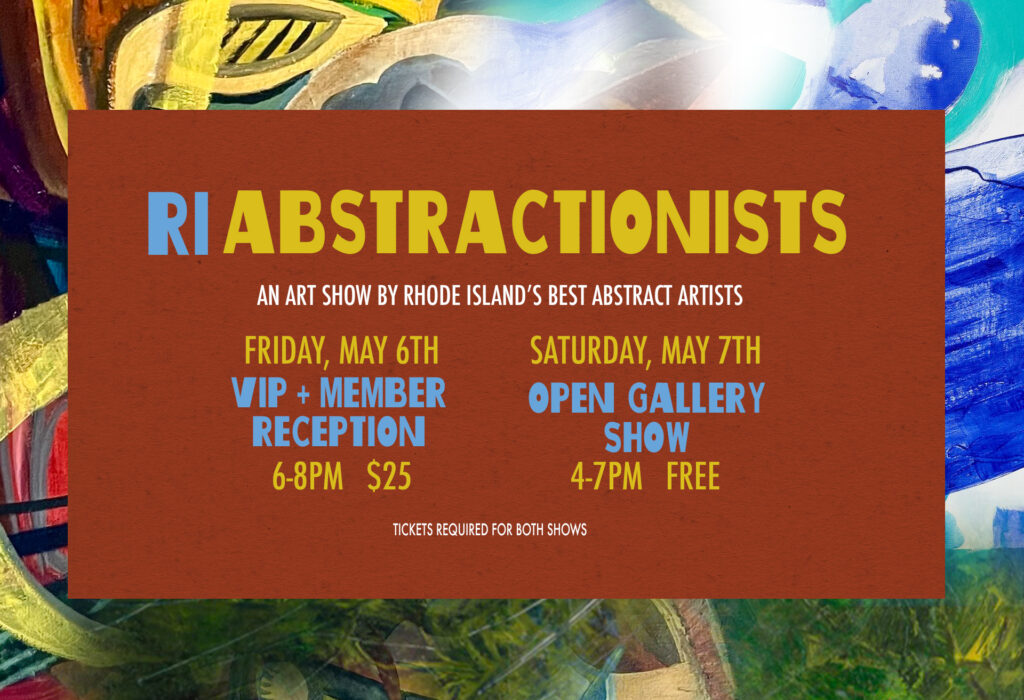 RI Abstractionists
Schedule an appointment!
An art show by Rhode Island's best abstract artists will be hosted by Nick Paciorek at The Pitcher-Goff House gallery.
If you could not attend our show this weekend we are happy to schedule a private showing for you! The show will run until June 10th, so there are plenty of opportunities to make an appointment with Nick Paciorek.
If you are an interior designer, we would love to welcome you to The Pitcher-Goff House. Bring your clients, or come alone and work with Nick to find the perfect addition to your design.
Participating artists: Frank Gasbarro, Kevin Gilmore*, Anthony Salemme, Jane Andreozzi, Robert Rustermier, Michele Aucoin, Theresa Girard*, Eveline Luppi*, Bob Rizzo*, Linnea Leeming, Racheal Brask
*Providence Art Club Members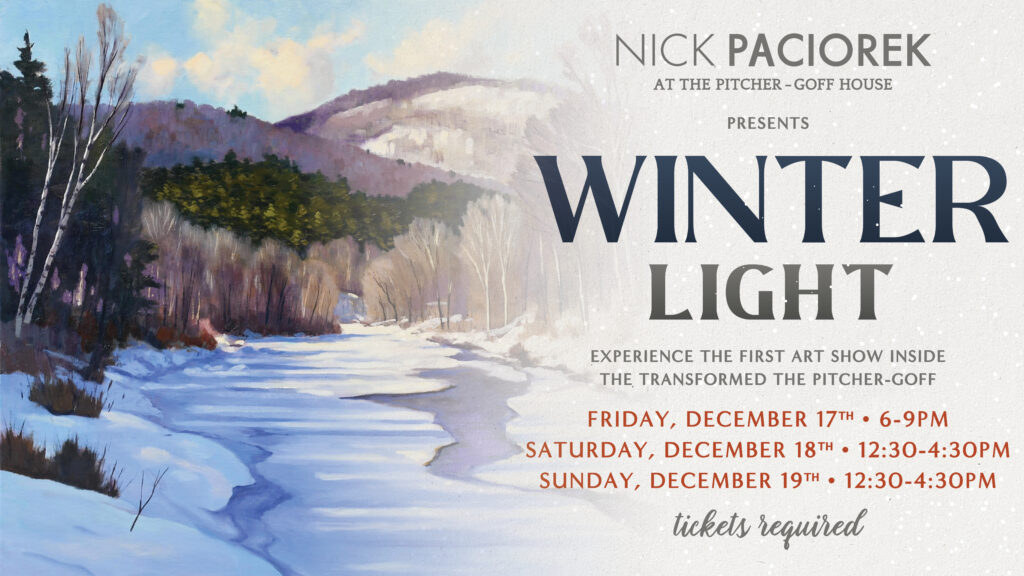 WINTER LIGHT
DECEMBER 17-19, 2021
We are welcome you to step inside to renovated historical Pitcher-Goff House renovated by artist and resident, Nick Paciorek.
All attendees are required a ticket that can be attained on our website. Please choose the day you want to attend and register for your FREE ticket. All tickets will be scanned upon entrance.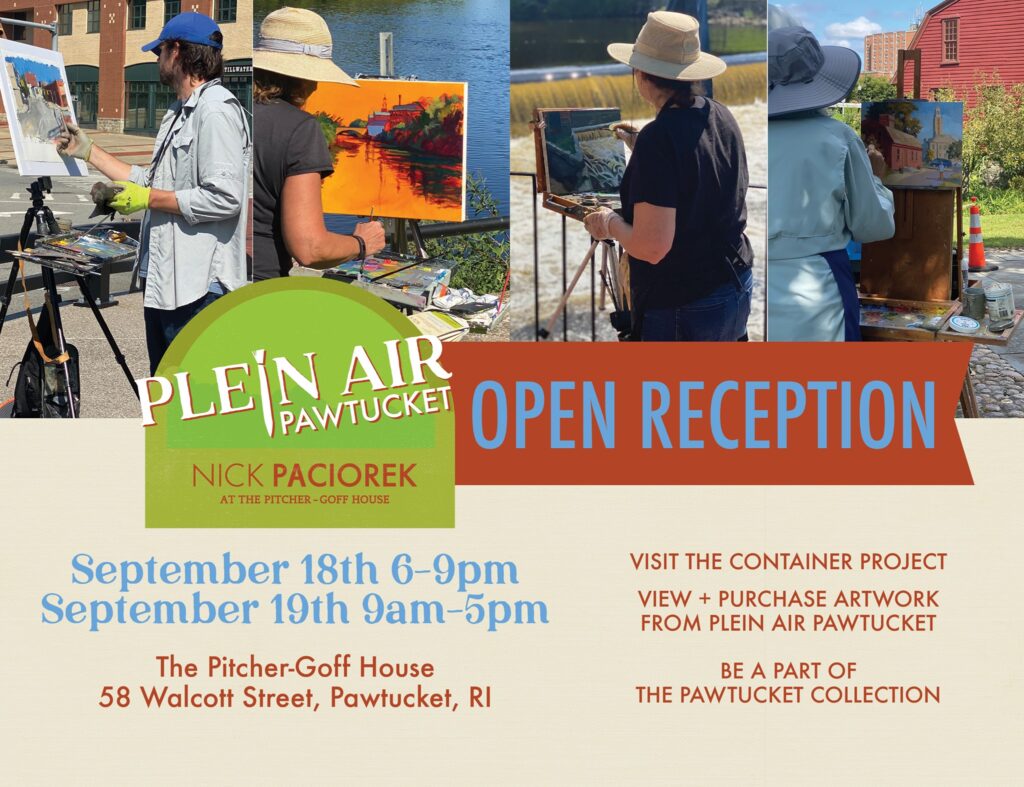 Plein Air pawtucket open reception
saturday, september 18, 2021
6-9pm
You are invited to view and shop the artwork created during Plein Air Pawtucket at The Pitcher-Goff House! Any work created in Pawtucket that honors the essence of this historic city will become a part of The Pawtucket Collection and will carry a stamp of authentication.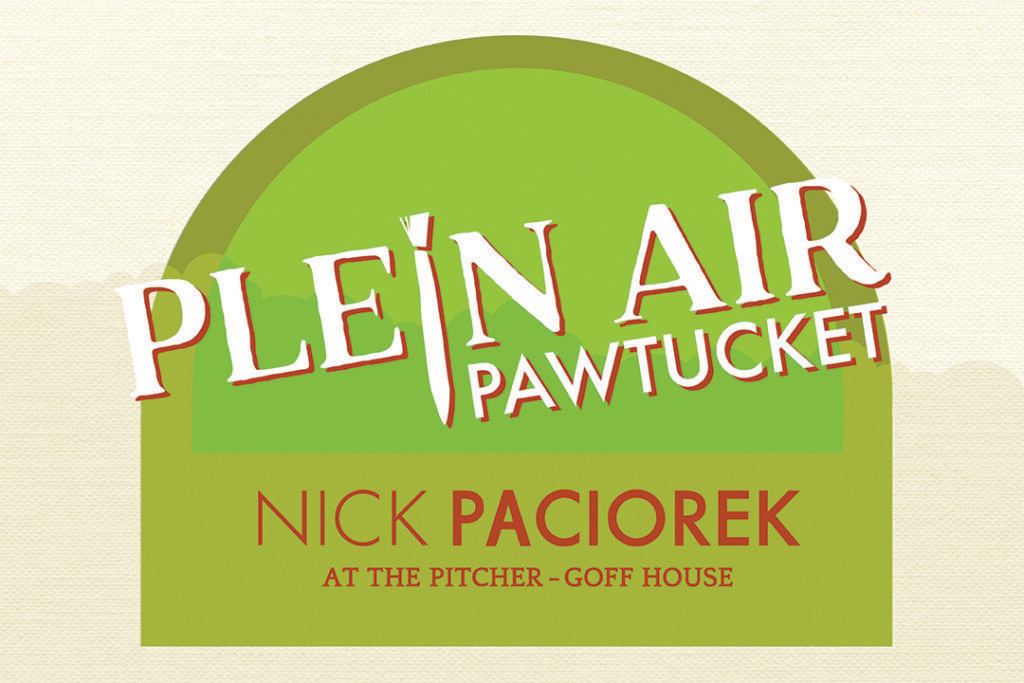 Plein Air pawtucket
saturday, september 10-12, 2021
6-9pm
Plein Air Pawtucket, a FREE one-of-a-kind art event, is coming to Pawtucket September 10-12th during the Pawtucket Arts Festival. This family friendly event will allow enthusiasts to explore the work of 12 talented artists as they work en plein air along a 1.25 mile walking tour through historical Pawtucket. Artwork created during Plein Air Pawtucket will become the inaugural paintings of The Pawtucket Collection, an ongoing collection of art that captures the spirit of Pawtucket in artistic medium: painting, photography, sculpture, etc. The resulting artwork will be available for sale at the Pitcher-Goff House Gallery and Studio the following weekend September 18-19th. We encourage families to pack a picnic, bring their dog and spend a few hours along the Blackstone River!