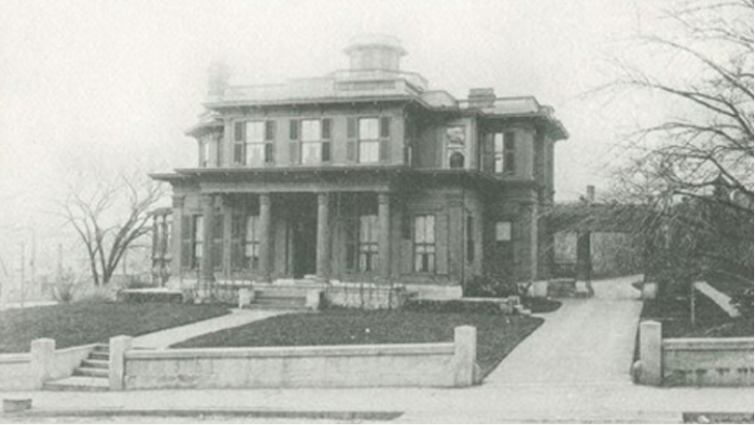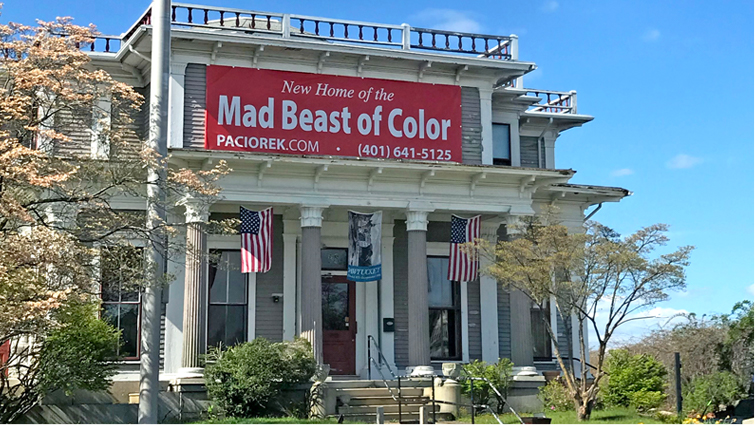 NICK PACIOREK
AT THE PITCHER-GOFF HOUSE
The Pitcher-Goff House, now known as The Grand Manor, is an historic house at 58 Walcott Street in the Quality Hill neighborhood of Pawtucket, Rhode Island. The house is architecturally eclectic, with a largely Italianate exterior, and a Late Victorian interior. The house was built for Elias B. Pitcher, a cotton textile manufacturer, in 1840. Later it was sold to Lyman B. Goff, another local industrialist, who made significant alterations to the interior, replacing a great deal of the older woodwork with more fashionable Queen Anne styling in 1881. He also modified the exterior, but these changes were largely limited to the porch, which also exhibits fine Queen Anne detailing overlooking I-95 from one side of the roof and downtown Pawtucket from the other side.
Goff's daughter donated the house for use by the local chapter of the American Red Cross in 1922. It has since served as a headquarters for the Boy Scouts, and in 1970 it housed the Rhode Island Children's Museum. It was added to the National Register of Historic Places in 1976. On February 28, 2020, Nick Paciorek announced his purchase of the property from Freedom National Bank. As a contractor with his restoration company New Age Builders & Remodeling, Paciorek knows the products and has the know-how to restore even the seemingly problematic areas of the home. Some of its current condition is due to past restoration work not being done the right way, or a term called "remuddling" within the industry. The home has unbelievable detail throughout and a million-dollar view overlooking I-95 from one side of the roof and downtown from the other side.
The Pitcher-Goff house is on the National Register of Historic Places. It was built of timber frame construction with an Italianate exterior that still has much of the trim dating back to the period of original construction. Inside, the notable Queen Anne, highly carved woodwork, installed by the building's second owner, Lyman Goff, remains largely untouched.