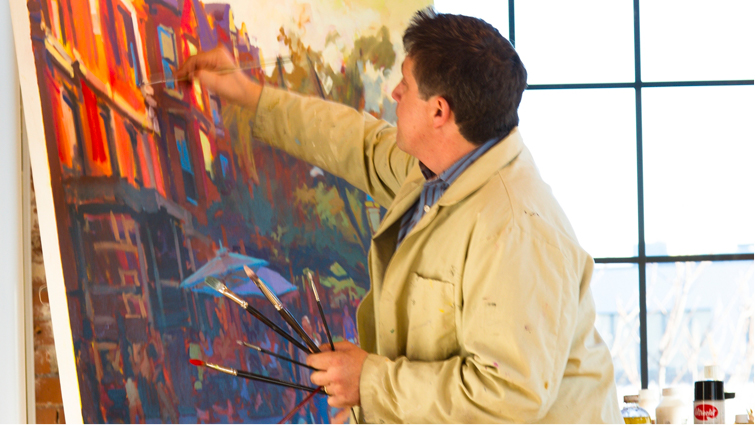 Meet NICK PACIOREK, The Artist
Chicago–the city, its colors, shapes and sounds–shaped young Nick Paciorek's world and brought him to where he is today: a renowned artist whose work is seen from coast to coast and in galleries around the world.
While other kids were enthralled with the baseball being played on Wrigley Field, Paciorek was awed by the colors and brightness in the field, the bleachers, and the people. He spent countless hours at art exhibits, continually returning to his favorite, an Impressionism collection. He was captivated by the ability of an artist to control the world on a canvas simply through color choice. Matisse became his central influence.
Paciorek's education brought him to Baltimore and Washington, D.C. as he explored his vision. He earned his BFA from the Maryland Institute College of Art and at his senior show he was fortunate to be picked up by Jerry Eisley at the Fox Hall Gallery in D.C. before graduation.
As an artist, Paciorek aligns himself with a new generation of Fauvists, drawing from the work of famous Fauvist artists like Matisse, Chagall and Derain. He uses broad strokes of color for their emotional impact. Early in his career, an art critic called him the Mad Beast of Color in terms of how he applies color, and the name stuck.
Each of his pieces is a celebration of light and color, a vivid interpretation of his subjects. For him, choosing the exact combination of hues for each painting is foremost. Large cities with active skylines, busy streets and hard edges are one of his favorite subjects. Another favorite are his waterscapes with the intricate interplay of light, sea and watercraft.
He has traveled the world – from Italy's Dolomites to France's canals to Macy's Thanksgiving Parade in search of inspiration, light and pattern. Today, he continues to create art, inspire artists, and prompt conversations that make you think at The Pitcher-Goff house in Pawtucket, Rhode Island.
Check out examples of his work and embellished prints.
---
education
BFA Maryland Institute College of Art – 1985
Teaching Assistant, Maryland Institute College of Art – 1984-85
Attended Art Institute of Chicago – 1981-83
Attended American Academy of Art – 1981-83
publications
Art Business News, Top Emerging Artists, Part 2, Fall Issue – 2014
Providence Journal, April 24, Local Color at ArtProv Gallery – 2014
Star News, March 8, Steeple Artist Completes Macy's Commission – 2012
Whistler Question, February, "American Artist Captures Whistler Light, Landscape, 2010
Pique Magazine, February, "Plaza Galleries Goes for Gold" – 2010
exhibitions
Two Person Show
Providence Art Club, Providence, RI, 2016
One Person Show
Lamantia Gallery, Northport, NY, 2016
Group Show
Blue River Fine Art, Breckenridge, CO – Jan 2016
Group Show
Louisa Gould Gallery, Martha's Vineyard, MA, 2013, 2014, 2015, 2016
Two Person Show
Robert Morris University Gallery, Chicago, IL – 2014
As a New England landscape artist, Nick Paciorek draws from the work of famous fauvist artists like Matisse, Chagall and Derain. Examples of his work, commissions and embellished prints can be found throughout this site, and in galleries alongside many New England artists.